Hey, folks! This is where you'll find all the necessary info for this year's events. We'll update this post every time there's a development, so everything you'll read here is current. Please check back as necessary for the most up-to-date information.
PARADE:
Time: Saturday morning. Staging is from 7:30-9:45 A.M. and step-off is at 10:00 A.M.
Place: The staging area
is the North Avenue Presbyterian Church parking lot/garage located at 607 Peachtree Street.
The route
begins at Peachtree Street NE and Linden Avenue and ends in front of the Marriott Marquis.
Meeting to go to staging together:
At 8:00 many of us will be meeting in the main lobby of the Marriott (near the Starbucks), where we'll hand out parade wristbands, and then split into two groups to go to the staging area together at 9:00 - one group taking the shuttle and the other walking. We would strongly recommend the shuttle if your costume will fit, as you're going to be doing plenty of walking soon. If, however, you have a costume or prop that won't fit on the shuttle, like a Dalek or Cassandra, walking will be the way to go.
All marchers MUST be at the parade staging area by 9:45. If you don't immediately see us once you reach the staging area, parade officials will be on hand to direct you to our designated section. Once we're all together we'll arrange everyone into marching order.
Staging:
WRISTBANDS WILL BE REQUIRED TO ENTER THE STAGING AREA. If you aren't planning to meet us in the Marriott before we move to staging, please make sure to set up a time with us on a previous day to get your wristband. We can be reached at (404) 216-6141 and (770) 317-5032. If in an emergency you do find yourself without a wristband at staging, call us or talk to a parade staff member and we'll do our best to have a volunteer run a wristband out to you. There are two entry points into the parking lot/garage, one on Peachtree and one on Courtland. Our position in staging this year is Number 11. And, for the first time, there will be porta-potties in the staging area!
How to get to the staging area:
There are a number of ways!
1.) Walking from the host hotel area. Staging is approximately eight blocks north on Peachtree from the Hyatt Regency's front door, and about nine blocks north on Courtland from the Marriott/Hilton. There is a large Bank of America hi-rise directly across the street from the church, and the Fox Theater is in the next block north of staging. If you walk by the Fox, you've gone too far.
2.) Parade Participant Shuttle. Express shuttles for marchers will operate from 7:30AM-9:30 AM on parade morning. There are three actual shuttles operating in a loop, each one accommodating 34 people at a time. There is only one pick up point (behind the Marriott on Courtland Street) and only one drop off point (on North Avenue between Peachtree Street and Courtland Street). The regularly-scheduled Dragon Con Shuttles will also drop off at the North Avenue location, however unless you board at the Marriott or Sheraton, there may be numerous stops before getting to our staging drop off point. DO NOT TAKE ANY SHUTTLE, PARADE OR OTHERWISE, THAT LEAVES THE MARRIOTT AFTER THE 9:30 A.M. PICK-UP. Anything later won't get there in time.
3.) MARTA. The North Avenue Station is a block from staging. Exit the station and walk one block on North to Peachtree.
4.) Driving. Use your GPS but note that the convention does not supply parking, so it would be up to you to find it, and that your car would not be conveniently located to the end of the route.
5.) Uber, Lyft, taxi and the like. Always an option!
TV Broadcast:
Yes, we're going to be broadcast on the CW again this year! The live broadcast starts at 10:00 AM. as does the live stream on atlcw.tv. This coverage is scheduled to stay live on-air through the entire parade. Look for the "STOP" and "GO" signs, and watch for and listen to instructions you get from parade team members. Please keep moving at the normal pace of the parade when you get there. Absolutely NO stopping to mug for the camera! The parade director can't emphasize this enough; it is NOT a performance stop. Pretend it isn't there. If you try to perform for it, the cameraman
will
cut away from us.
Staging Map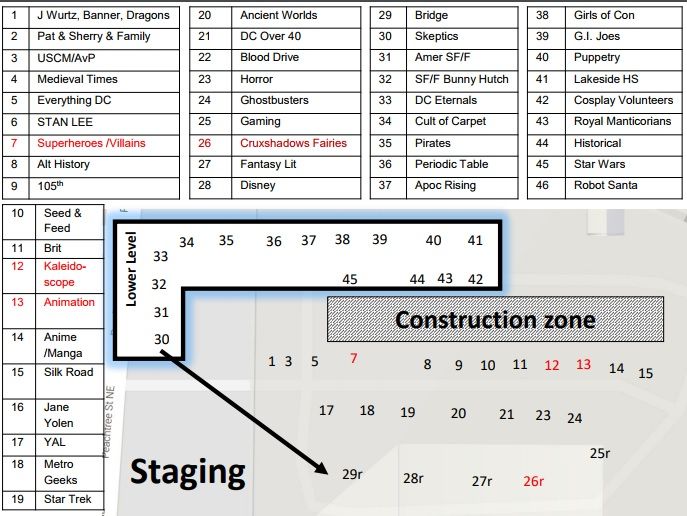 Route Map: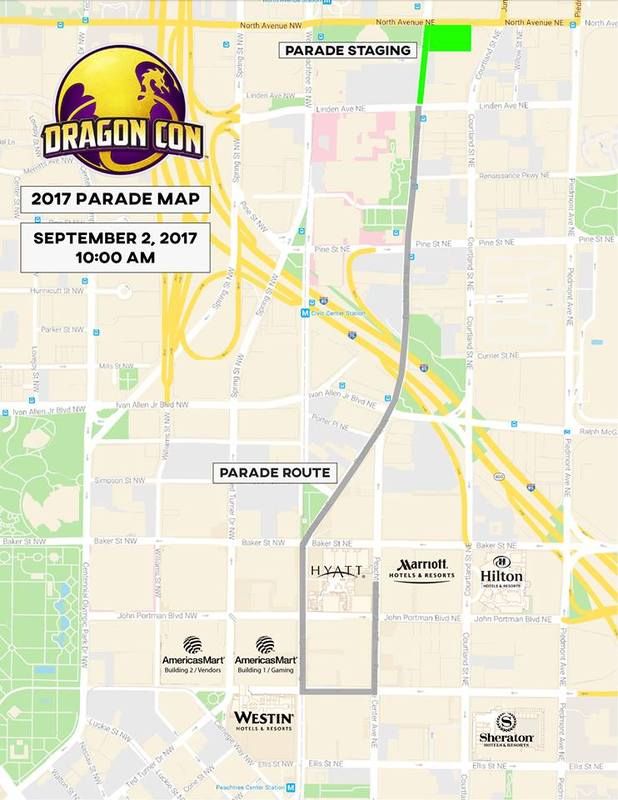 GROUP DINNER:
Time: Friday evening, Sept. 1st, at 7:00 P.M.
Place: The Mellow Mushroom
This year, by popular demand, we'll be back at Atlanta's legendary pizzeria! They have incredible pizza (and other food) and are extremely vegetarian friendly. Check them out at:
http://mellowmushroom.com/store/downtown-atlanta-0
NOTE:
Though the website gives as address on West Peachtree, the restaurant itself is at the back of the building and faces Spring Street, near Ivan Allen, opposite the W hotel. Best not to head down Peachtree itself.
PHOTO SHOOT:
Time: Saturday morning directly after the parade, approximately 11:15
Place: The back steps of the Hilton (right side)
To find the steps at the Hilton, simply come in the front doors, walk past the elevators, and keep to the right. Soon you'll see a set of doors on the right that lead to a short hallway. You'll see that the hallway has two sets of doors, one on either side, that lead outside to large concrete staircases. We'll be using the larger set of steps on the RIGHT. Depending on the heat, after the big group photos we may adjourn indoors for smaller, air-conditioned photos.
That's it, folks! As always, for the most current updates and news during the convention, follow us on Twitter @PrydonAcademy. Forward to September!
-A